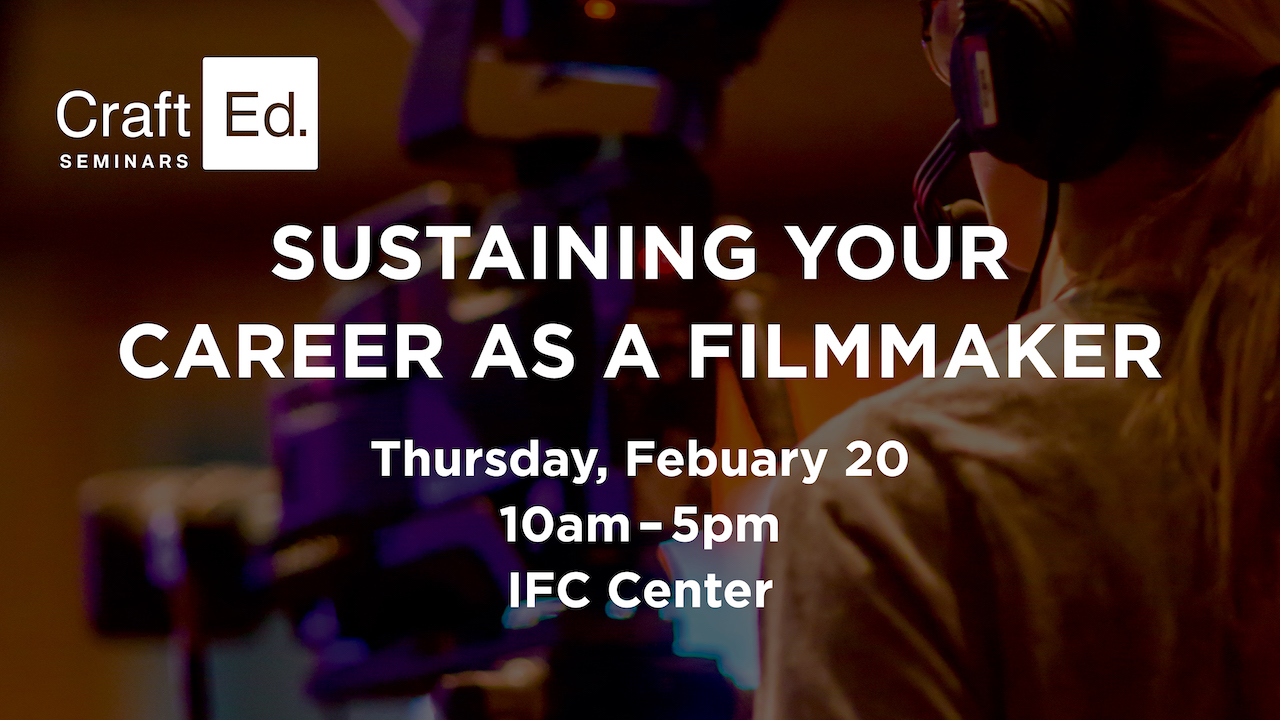 Sustaining Your Career as a Filmmaker
Making a living as an independent filmmaker—or any kind of artist—has never been easy, but Craft Ed. has assembled a group of pros to help you chart out a course for a sustainable career. From learning how to juggle a flexible day job that lets you develop new skills and also get paid; to finding groups that offer professional, funding and creative support; to learning how to market yourself to employers and audiences, this all-day event gives you tools to smooth your path, whether you're working in film or in another creative art. The day includes a coffee & bagel breakfast, as well as a post-seminar happy hour for networking with presenters and attendees.
Co-presented by the Documentary Producers Alliance
A discounted package to attend both the "All About Crowdfunding" and "Sustaining Your Career as a Filmmaker" Craft Ed. Seminars is available for $160 ($130 for IFC Center members). Ticket price includes a coffee & bagel breakfast, free popcorn and coffee all day, as well as a post-seminar happy hour for networking with presenters and attendees.
"Sustaining Your Career as a Filmmaker" Schedule:
☕️ 9:30am – 10:00am      Check-In / Bagel Breakfast ☕️
Attendees can enjoy complimentary popcorn and coffee all day!
10:00am – 11:00am     How to Balance a "Day Job" and Pursue an Artistic Career
Hear from filmmakers and other artists including Tony Shaff (Director/Producer, 44 Pages; Producer, Teen Mom franchise (MTV)), as they discuss how they manage to have a "Day Job" and create their passion projects. Get tips on how they can transfer skills and experience, and how they carve out the time for both.
11:15am – 12:15pm     The Business of Your Business
You want to be an artist, but that also means running a business. What is your brand and what do you need to do to run a business? Hear from consultants including Shena Nicole (Shena Nicole Consulting) as they advise on how best to build your brand.
1:30pm – 2:30 pm     Improving an Industry: The State of Documentary and Efforts to Reform It
Hear from filmmakers representing the Documentary Producers Alliance (DPA), a working group of over 200 documentary producers, about what they are doing to help improve the industry from the inside out. They'll discuss the DPA's committee structure and what each is doing to foster sustainability and inclusivity in documentary filmmaking, such as offering guides to best practices for crediting and investor relationships. Panelists include Veronique Bernard (Enter the Faun), Heidi Reinberg (93Queen) and Susan Margolin (The Rape of Recy Taylor)
2:45pm – 3:45pm     Where Do You Go for Support and How Do You Advocate for Yourself as a Freelancer?
Hear from Stephanie Alvarado (Freelancers Union) and Laura Levin-Dando (Volunteer Lawyers for the Arts) as they talk about what their organizations offer and what to do when you need to bring in outside help.
🍻4:00pm – 5:00pm Happy Hour 🍻
---
Panelist Bios:

STEPHANIE ALVARADO is an interdisciplinary artist, poet, community organizer, and photo archivist born and raised in the Bronx, NY by way of Guayaquil, Ecuador. She has 15 years of work experience doing audience engagement programming, policy advocacy research, curriculum development, archival research, and creative facilitation. Stephanie currently works as the founding Program Director of Freelancers Hub and is on the Board of Directors of The Literary Freedom Project. She received her BA from NYU in Psychology, Latino Studies, and Public Policy and her MA in Women, Gender, and Sexuality Studies from Emory University.

VERONIQUE BERNARD is a non-fiction producer, director, and senior executive whose experience includes WNET, Sundance Channel, New York Times, National Geographic, ABC News, and Australian broadcaster SBS, where she was Head of Production. Recent credits include doc series E2: The Economies of Being Environmentally Conscious (PBS/Sundance), The Man Who Invented Himself: Duane Michals (Special Mention Prize, FIFA, 2013), series Redesign My Brain (ABC Australia, Science Channel, Discovery, 2014), PBS series Art in the Twenty-First Century (2016), and Enter The Faun (America ReFramed, 2017). She is currently producing three feature documentaries, and teaching in the Integrated Media Arts MFA program at Hunter College.

LAURA LEVIN-DANDO, VLA's Staff Attorney, advises clients on a range of issues including disputes, contracts, intellectual property matters, and corporate and not-for-profit formation and governance. Laura also teaches and facilitates VLA's educational programs. Laura received her J.D. from George Washington University Law School, and she graduated summa cum laude from Yeshiva University, where she studied history and music. A lifelong musical theatre nerd, Laura feels very fortunate to be able to help artists from all disciplines through her work at VLA.

SUSAN MARGOLIN
 has built a reputation as a pioneer of digital distribution and a dedicated supporter of the independent filmmaking community for over three decades. Margolin co-founded New Video/Docurama Films in 1992, and ran the company until selling it to Cinedigm in 2012. In 2016, Margolin launched St. Marks Productions, a production and distribution services company. She is currently producing Alexandra Codina's feature documentary
Unaccompanied Children
and Nancy Buirski's
A Crime on the Bayou
. Prior credits include
The Rape of Recy Taylor
(Producer), and
Love and Stuff
(EP), and
Generation Startup
(EP). Margolin serves on the Boards Chicken & Egg Pictures, Hamptons DocFest, and BAFTA NY.

SHENA NICOLE is a brand mentor with 10+ years of marketing and branding experience in retail, fashion, luxury goods, urban apparel, and creative agency.  Known as a serial entrepreneur; from 2013 to present, she has successfully owned and operated 4 businesses within NYC. Shena's other ventures include brand educator during General Assembly's Winter 2018 & Spring 2019 UX Design course, featured panelist during the 2018/2019 L'Oreal x NY Coalition of One Hundred Black Women's annual role model program, and former instructor of marketing, social media and website fundamentals with NYC Business Solutions; a state subsidized program that offers free classes to NYC resident entrepreneurs and business owners.

HEIDI REINBERG'S
 latest project is the
Unititled Criminal Justice/HS Project
, directed by Emmy-winner Maisie Crow (
Jackson
)
. 
It's slated for a Winter 2021 launch in collaboration with Anonymous Content, 
The New York Times
, Concordia Studios, and XTR, and is repped by Cinetic Media. Previously, Reinberg produced the ITVS/Arte SWR co-production 
93Queen
, which premiered on POV, and was Consulting Producer on
Born to Be
(NYFF, 2019). Reinberg's work has been supported by Sundance Institute; Ford Foundation; Tribeca Film Institute; Catapult; Fork Films; NYSCA; IDA Enterprise Fund; IDA Pare Lorentz Doc Fund; Economic Hardship Reporting Project; Picture Motion; Hartley Film Foundation; and Austin Film Society.

TONY SHAFF
 is a NYC-based film and television producer and director. His debut documentary feature HOTLINE explores the anonymous and intimate world of telephone hotlines.  His recent feature 44 PAGES profiles the world's most popular children's magazine, 
Highlights
, as it plans its 70
th
-anniversary issue. His films have screened at HOT DOCS, DOC NYC, SXSW edu and other festivals, and have been distributed theatrically and on streaming platforms. He has also produced the groundbreaking docu-reality franchise 
Teen Mom
 (MTV), about young mothers struggling through unplanned parenthood. Tony is a graduate of The University of North Carolina School of the Arts.
---